Posts: 2,402
Bullseye Shooter
SNIPE HUNTING IN RP
Snipe-hunting by a friend in RP before the hunting ban. Note that he used an air rifle onlywith a scope but look at his string!!! Nakakaiinggit!!!
Such a feat is enviable even here in the US where wing shooting with a shotgun is the norm. But judging from his string of birds, using a shotgun would have meant spending a fortune on the ammo!!! BUT WHO CARES BASTA MAYROONG IUUWING GANYAN!!!
Talagang ang mga Pinoy, basta hunting!!!... (Drool... Drool...Drool...)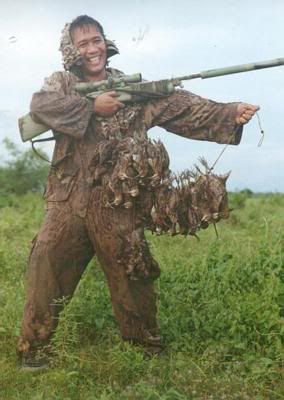 The two ducks are Whistling Tree Ducks found all over Asia. (Philippine Mallards is an endemic species is on the "Threatened" listing of the World Wildlife Fund and should not be hunted.)
Pulutan!!! Snipes or kanduro---
A bad shot is often caused by a loose nut behind the buttplate.